Music
Download music: Babatunde John Olaniyan – Fimi L'okan Bale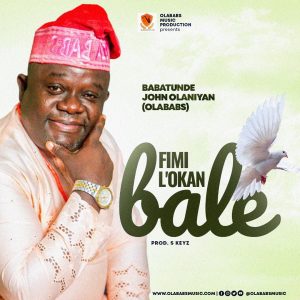 Babatunde John Olaniyan, renowned as Olababs, is a celebrated gospel artist from Nigeria, known for his captivating indigenous tunes. His latest release, "Fimi L'okan Bale," crafted in collaboration with producer S Keyz, marks a significant entry into the gospel music arena.
The track carries a rhythmic Yoruba title, resonating with the language spoken in Nigeria's Western region. Translated as "Give Me Peace Of Mind," the song delves into our yearning for divine intervention and benevolence, seeking solace in God's boundless grace.
In Olababs' own expressions, "This composition echoes the heartfelt cry and prayer of all listeners, entreating God to bring solace in these times."
He further implores, "As you lend your ears to this melody, let your faith amplify the lyrics in resounding affirmation. The Almighty, who has answered our supplications in the past, will undoubtedly respond again. Amen!" Olababs concludes with unwavering hope.
Presented in a harmonious fusion of Yoruba and English, this musical masterpiece emanates from the artistic hub of Olababs Music Production. Experience a melodic journey that transcends linguistic barriers while seeking divine tranquility.
Get Audio Mp3, Stream, Share, and be blessed.
[ddownload id="11528″]
Wait, Before You GO!!!
Click to Download other Latest gospel songs