Music
Download music: Count Your Blessings – Tosin Alao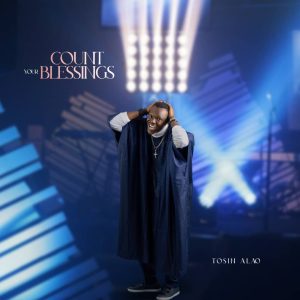 Tosin Alao, the highly acclaimed Nigerian gospel singer, songwriter, and recording artist, has delighted fans with the release of his latest music, "Count Your Blessings." This captivating anthem is a heartfelt reflection on the countless blessings bestowed by God.
"Count Your Blessings" is a testament to Tosin Alao's remarkable musical talent and his deep appreciation for God's goodness. The song encourages listeners to engage in introspection and recount the multitude of things that God has done in their lives.
In his own words, Tosin Alao shares, "Count your blessings, name them one by one, and you'll be amazed by what the Lord has done. This resonates with Deuteronomy 28:2, which promises an overflow of blessings for those who heed the voice of the Almighty."
Get Audio Mp3, Stream, Share, and be blessed.
[ddownload id="11473″]
Emphasizing the significance of gratitude, the song underscores that expressing thankfulness should be a daily practice. Research reveals that gratitude fosters a positive impact on one's life, leading to increased satisfaction, reduced stress, and elevated happiness levels.
"Count Your Blessings" is now available for streaming and download on all major digital platforms. Listeners are invited to experience the uplifting melody and heartfelt lyrics, as they open their hearts to the abundant blessings of the Lord.
About Tosin Alao: Tosin Alao is a celebrated gospel artiste hailing from Nigeria. With a unique blend of soul-stirring vocals and heartfelt songwriting, he has carved a niche for himself in the gospel music scene, touching hearts and inspiring lives through his musical journey.
To join in the celebration of God's blessings and stay connected with Tosin Alao, visit [Official Website] or find his music on leading digital music platforms.


Wait, Before You GO!!!
Click to Download other Latest gospel songs