Jimmy D Psalmist songs
Music
Jimmy D Psalmist – Protocol Breaker
PROTOCOL BREAKER BY JIMMY D PSALMIST | TWITTER, TIK TOK & INSTAGRAM: @JIMMYDPSALMIST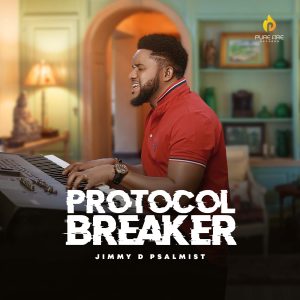 Download song Protocol Breaker – Jimmy D Psalmist
Jimmy D Psalmist
is out with his music video release of a powerfully uplifting song titled "
Protocol Breaker.
" — "This Can Only Be God" featuring Moses Bliss.
This release marks yet another milestone in Jimmy D Psalmist's illustrious career, building upon the success of his previous hit music, including "Mighty Man Of War," "Wonder Papa," "Jesus Reigns," "Powerful" and "Consuming Fire."
[ddownload id="11147″]
PROTOCOL BREAKER (LYRICS)
Written By Jimmy D Psalmist
You said in your Word
You will show mercy to whom you wanna show mercy
I stand on your word
You said in your in word
You'll show compassion
To whom you wanna show
Thank you for your Love
Chorus:
Jesus you are the protocol breaker
I glorify your name
I know it is my turn
Obinigwe you are the protocol breaker
I worship you my King
Thank you for your love
Just like Esther
The Orphan girl from the backside
You turn her into Queen
This can only be you
How about Mordechai
The unqualified gate man
Honoured and promoted
what can you not do
David was not the strongest
you turn him into king o
He never lost a battle aĺl because of you
From the prison to prime minister the story of bro Joseph
I call on you today ooo
I know it is my turn
Vamp:
I can always count on you 3×
Oh merciful Father
I can always count on you 3x
Oh Protocol breaker
CONNECT WITH JIMMY D PSALMIST
Twitter | Facebook | Instagram | Tik Tok: @JimmyDPsalmist


Wait, Before You GO!!!
Click to Download other Latest gospel songs