Music
Mp3 Album: Anslem Mighty – Since I Get Jesus
Download Album: Since I Get Jesus by Anslem Mighty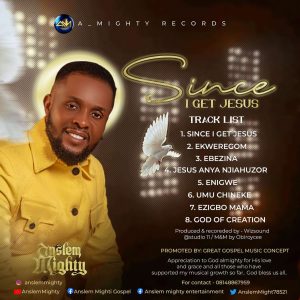 Anslem Mighty's latest album, "Since I Get Jesus," is a masterpiece that encapsulates his musical journey and spiritual connection. Each track is a chapter of his story, inviting listeners to experience the highs and lows of his faith through melodies that stay with you long after the music stops.
What sets Anslem Mighty apart is his magical ability to blend tradition with innovation. His infusion of the Nigerian Igbo dialect into his music creates a sense of familiarity while also inviting curiosity. It's like sharing a cup of tea with an old friend in a new and exciting way.
Anslem Mighty's music isn't just about the tunes; it's about the stories he weaves through every lyric. His music speaks directly to the heart, addressing the challenges, triumphs, and moments of inspiration that we all encounter on our journey. Through his soul-stirring songs, Anslem Mighty is a messenger of faith, love, and resilience.
Stay tuned as Anslem Mighty continues to create music that uplifts, inspires, and brings people together. This isn't just about songs; it's about connecting hearts through the magic of melodies.
Get Audio MP3, Share, Stream, and be blessed.
DOWNLOAD – SINCE I GET JESUS
DOWNLOAD – ENIGWE
DOWNLOAD – EKWEREGOM
DOWNLOAD – EZIGBO MAMA
DOWNLOAD – UMU CHINEKE
DOWNLOAD – JESUS ANYA NJIAHUZOR
DOWNLOAD – EBEZINA
Wait, Before You GO!!!
Click to Download other Latest gospel songs