Download music: Obinasom by Mercy Chinwo
Music Video: Mercy Chinwo |Obinasom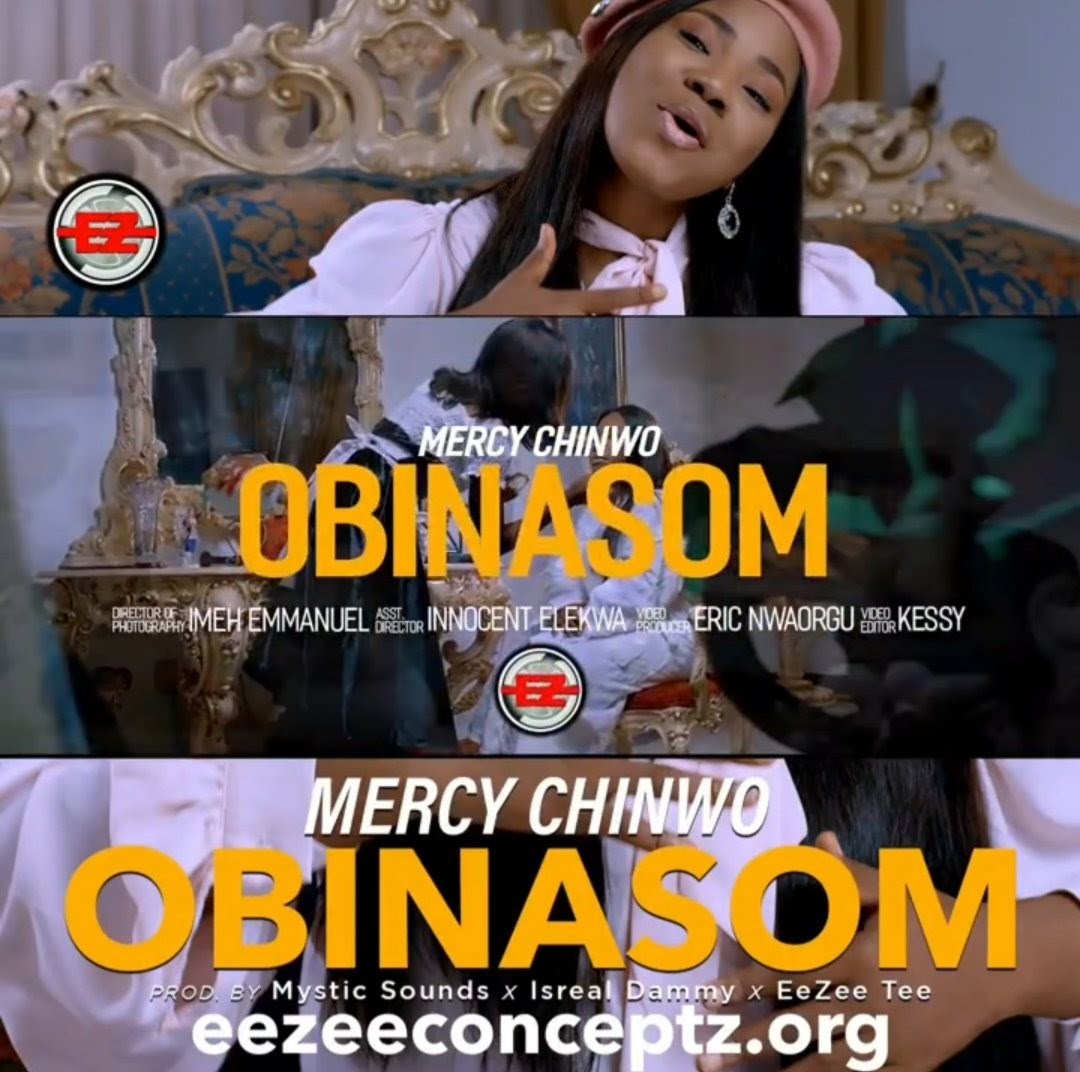 EeZee Conceptz presents the official video for "Obinasom" by Mercy Chinwo released on a very special day… Valentine's Day.
The video was premiered  with a movie night – video screening/meet and greet with Mercy Chinwo on the 13th of February, 2020. It is off the new album dropping on the 19th of April as Mercy Chinwo debuts her live concert. The event tagged Mercy Chinwo Live in Concert and Album Release will hold at the Landmark Event Centre, Victoria Island, Lagos. Get your tickets via 07062010108 | https://eezeeconceptz.org/mm1-live/
The song expresses Mercy Chinwo's gratitude to the one who can turn life around. Mercy Chinwo ingrains some testimonies in the video emphasizing the story of God's glory upon her life.
Music produced by Mystic Sounds, Israel Dammy and EeZee Tee. Video directed by Avalon Okpe.
Watch video below:
Connect:
Twitter: @mmercychinwo | @eezeeconceptzpr
Instagram: @mercychinwo | @eezeeconceptz
Facebook: @mercychinwo
[/quote]
5 Nigerian Gospel Artists to Keep an Eye On before end of 2021(EXCLUSIVE)
The year 2021 is half way but that does not determine the package and plans some talented gospel singers have for the year, we would be listing out 5 Nigerian gospel artists to watch out for before the year 2021 runs out.
Though the start of the year 2021 was a bit difficult for gospel artists due to the outbreak of COVID-19 in the country the previous year, which caused some of the country's top musicians to release fewer songs due to financial constraints and a lack of access to some resources required at the time.
The outbreak of the virus in 2020 compelled some well-known gospel singers to learn how to use digital media to enhance and expand their presence.
However, some of these top artists have wasted no time in releasing new sounds for their followers and fans to enjoy this year.
Because of the resources invested in the gospel music industry by some young gospel artists, GreatGospelMusic has compiled a list of five top gospel artists to look out for before 2021 ends.
Here are our top five gospel artists to look out for in 2021.
---
1. Moses Bliss
Moses Bliss drove his way into the hearts of gospel music fans in 2020 when he released the songs 'Too Faithful' and 'Bigger Everyday,' which quickly became anthems among gospel music lovers and choirs.
The songwriter and music minister released his first single, "E No Dey Fall My Hand," in January 2017 and has been consistent in the industry since then.
Bliss, who plays a variety of instruments, has released popular songs such as 'You I Live For,' 'Too Faithful,' 'Bigger Everyday,' and a variety of other lovely sounds.
Many people will be hoping for more from the talented young artist before 2021 runs out.
---
2. Mercy Chinwo
Mercy Chinwo, a one-time winner of Nigerian Idol, has bought her way into the hearts of gospel music fans with her back-to-back singles.
The singer and songwriter made headlines in 2020 when she released a remix of her song "Excess Love" featuring recording artist JJ. Hairston.
RELATED: Top 15 Nigerian Gospel Songs 2021
Because of her consistency, Chinwo was given the opportunity to minister at the 2020 experience, and much will be expected of her in 2021.
Omekannaya, Chinedum, Obinasom, and other beautiful songs have been released by the gospel artist.
---
3. Ada Ehi
Ada Ogochukwu Ehi, popularly known as Ada Ehi, a 37-year-old performing artist, singer, and songwriter, tops the list of Naija Music's top 5 artists to watch in 2021.
The Christ Embassy member, like other gospel artists from the church such as Sinach, Frank Edwards, Eben, and many others, has established a presence in the music industry.
Ada remained consistent in 2020, despite the fact that the year was generally difficult for Nigerians due to the pandemic outbreak.
Last year, the recording artist bought her way into the hearts of Nigerians with her beautiful song "I Overcame."
Other songs by her include Cheta, Only You Jesus, and I Testify.
---
4. Tim Godfrey
Tim Godfrey, the owner of the ROX Nation record label, is one of Nigeria's most consistent gospel artists.
Tim Godfrey has established a name for himself and his singers over the years, with artists such as IBK flourishing in the gospel music industry.
The vocal instructor is well-known for his yearly program "Fearless," in which he invites top artists from around the world to perform.
We believe Tim will not disappoint music fans in the coming year, and we anticipate new sounds in 2021.
---
5. Dunsin Oyekan
Dunsin Oyekan renowned gospel artist is a sensation to put a close eye on with huge expectation before the year 2021 runs out.
"Fragrance To Fire" is the latest addition to Dunsin Oyekan's growing catalog of great songs that are born from a deep and revelatory place. This is also his first new single since his latest album, Kingdom Now, and it follows the project's recent live video releases, which include Ageless, Holy, and Most High.
GLORY TO YOUR NAME – TIERRA DAWN Ft Jumbo Ane.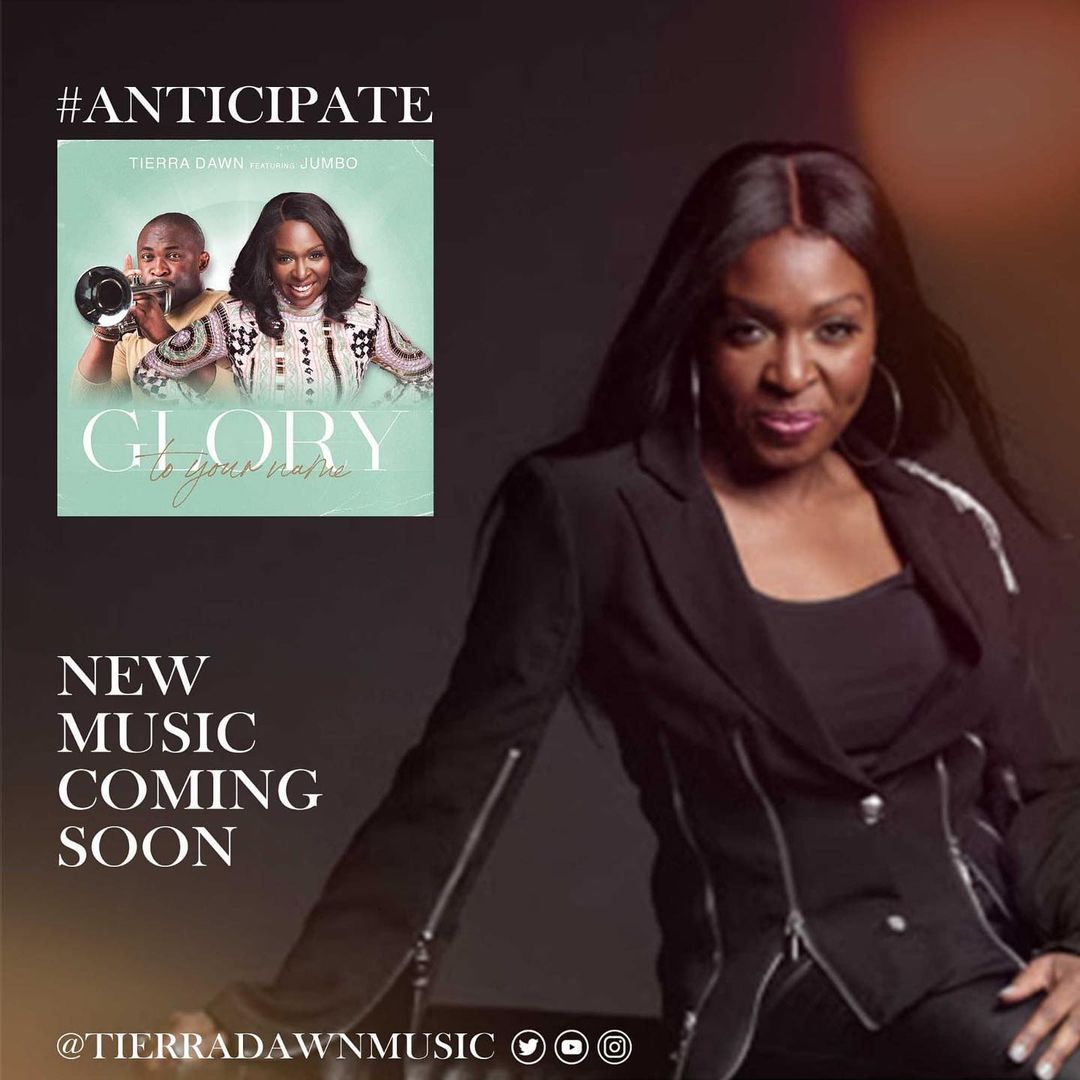 TIERRA DAWN the Maryland based artist breaks into the gospel music scene with an unforgettable new single titled GLORY TO YOUR NAME featuring Jumbo Ane.
This song was birthed from a place of prayer. During the COVID-19 pandemic, Cornerstone Church created an initiative of 12 noon intercessory prayer for the nation and to call upon the name of the Lord for mercy.  I began praying like Daniel — 3 times daily as it related to the nation, the state of the world, and personal inquiries. This consecrated prayer time many times ended up in a time of worship and praise to God.
On this particular 12 noon prayer time, we were reminded about Jehoshaphat from 2 Chronicles 20 who went to war against a huge army from Edom, men from Moab, Ammon and Mount Seir. Before war was declared or any victory had been one, a sound of praise to the Lord was released because of His glory and holiness. They gave thanks to the Lord for His faithful love continues forever.  What resulted was nothing short of a miracle. Jehoshaphat's enemies self-destructed; they destroyed one another.
The Lord made them happy because all their enemies were dead!
This song is a song of praise and thanksgiving to God for who Yahweh is in our lives. Before the storm is over, we give praise. In the midst of being overwhelmed, we give thanksgiving. Being disillusioned and surrounded on all sides, we can lift up a Hallelujah praise to our God because of His glory! We give GLORY TO YOUR NAME!
Watch video Below;
<
div>
LYRICS:
Intro
ohh
You alone are worthy of my praise
Jesus Jesus
Verse 1:
Bright and Morning Star You are
You turn my life around
What a mighty God You are
Yahweh You cause the blind to see
You give food to the hungry
You do such marvelous things
I give glory to your name o
Everybody sing
Chorus:
I give glory to your name o (x8)
Ad Libs:
You are the most high God
Heaven and Earth adore Your name
I give glory to your name
Worthy of my praises
I give glory to your name
Verse 2:
Great and mighty God you are
You reign in all the earth
All power belongs to you
All generations will come to testify
That none compares to you
King of the universe
glory to your name
Chorus:
I give glory to your name o (x8)
Ad Libs:
We give glory to your name o
Hey
Captain of my soul
Lord you make me whole
Keeper of my life
Lord you lift me high
When I think of all you've done
You part the sea
Raise the dead
Heal the sick
Holy One
Mighty God
Great I am
Trumpet Interlude
Halle Halle Halle Halle x2
Halle Halle Hallelujah Iyelele
Repeat
Ad lib:
Halleluyah is the highest praise
Halleluyah Halleluyah Halleluyah Iyelele
We join with the angels
You alone are worthy are great
We declare Halle
Iyelele
BIOGRAPHY:
TierraDawn is a native of Washington, DC, currently based in Maryland. She is the daughter of Collin and Mablelene Burrell.
She was baptized at the age of 8 years old and rededicated her life to the Lord at 20 years. Tierra started her music ministry at 4 years old in the choir at East White Oak Missionary Baptist Church. After moving to Maryland, she served faithfully in the children's and youth choirs at The People's Community Baptist Church, TPCBC, before leaving to pursue her undergraduate studies at Brown University. After graduating with her bachelors in Biology. She returned to serve in the Young Adult Praise Team at TPCBC until relocating back to North Carolina to attain her medical degree from the University of North Carolina at Chapel Hill.
After deciding to pursue a career as a pediatrician, she entered residency at Cincinnati Children's Hospital Medical Center. Here, she served in the Praise Team at Bethel Cincinnati in Every Nations Ministries under the leadership of Pastor Brian Taylor.
She served consistently until transitioning to Baltimore, Maryland to begin her post-doctoral research fellowship at The Johns Hopkins School of Medicine. During her fellowship, she ministered through songs at Soteria Church in Woodlawn, Maryland. Currently, she is attending Cornerstone Church in Bowie, Maryland while practicing as a pediatrician for Kaiser Permanente.
In 2017, TierraDawn had an encounter with God where she received the vision to evangelize through song. During this encounter, God began His ministry of songwriting. In 2020, she debuted her first project with guest ministers Peter Tobe and Jumbo Ane.
Follow Tierra Dawn on Facebook, Instagram, Twitter and subscribe to her YouTube channel for new music and ministry updates.
CLICK To Download Latest Gospel Songs.
Download music: FRIEND BY UNCLE J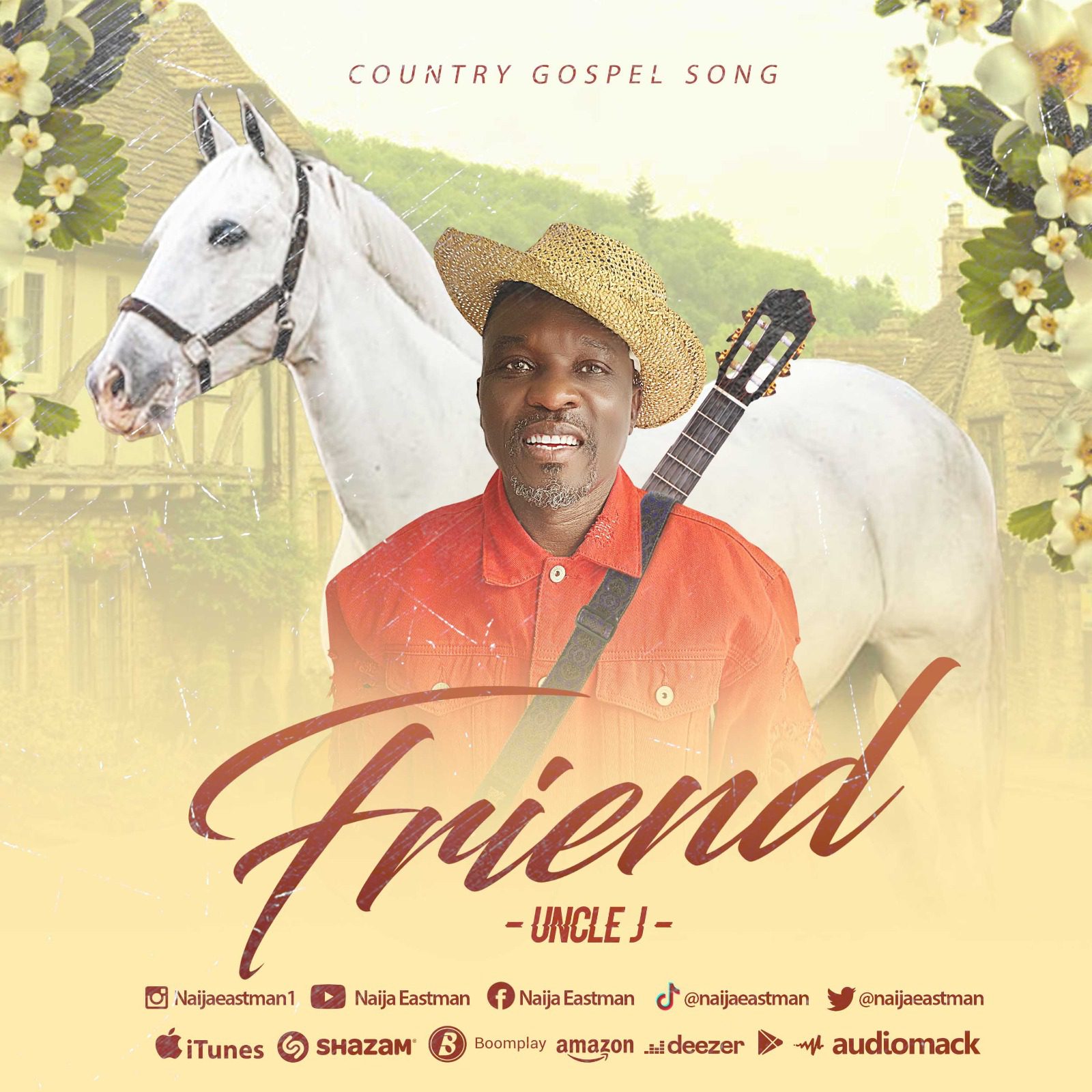 New Song – FRIEND BY UNCLE J
John Raphael Aka Uncle J is a Nigerian gospel singer, song writer and a composer. He futures in American film (Black Hawkdown) Nigerian movies Founder of Harmonious Kidsnow out with a new song titled FRIEND
Produced by Realityvity
Download song Below;
Download
Watch video Below;
Hallelujah I wanna tell us about my best Friend
Friends are hard to find, but I have got one
His name is Jesus, my best friend
Friends are hard to find, but I have got one
His name is Jesus, everlasting friend
Chorus
Friends are hard to find, but I have got one
His name is Jesus, my best friend
Friends are hard to find, but I have got one
His name is Jesus, my best friend
His name is Jesus, my best friend
His name is Jesus, my best friend
His name is Jesus,
His name is Jesus,
His name is Jesus, everlasting friend
Bridge
In times of want – His there
In times of need – His there
In times of love – He cares for me
In times of want – His there
In times of need – His there
In times of love – He cares for me
Chorus
Friends are hard to find, but I have got one
His name is Jesus, my best friend
Friends are hard to find, but I have got one
His name is Jesus, my best friend
His name is Jesus, my best friend
His name is Jesus, my best friend
His name is Jesus,
His name is Jesus,
His name is Jesus, everlasting friend
When is tough friends go
When is good friends come all around,
But You my Lord,
You never walk away from me
Chorus
Friends are hard to find, but I have got one
His name is Jesus, my best friend
Friends are hard to find, but I have got one
His name is Jesus, my best friend
His name is Jesus, my best friend
His name is Jesus, my best friend
His name is Jesus,
His name is Jesus,
His name is Jesus, everlasting friend
Bridge
In times of want – His there
In times of need – His there
In times of love – He cares for me
In times of want – His there
In times of need – His there
In times of love – He cares for me
When is tough friends go
When is good friends come all around,
But You my Lord,
You never walk away from me
His name is Jesus, my best friend
His name is Jesus, my best friend
His name is Jesus,
His name is Jesus,
His name is Jesus, everlasting friend
His name is Jesus,
His name is Jesus,
His name is Jesus, everlasting friend
Uncle J. Friend
Uncle J. From Eastern Nigeria Gospel Artiste
Connect:
Facebook | YouTube: Naija Eastman
TikTok | Twitter: @naujaeastman
Instagram: Naijaeastman1
CLICK To Download Latest Gospel Songs