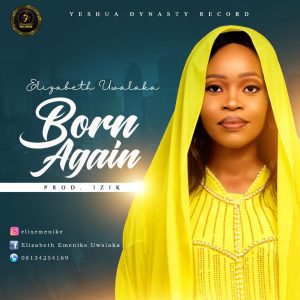 Nigeria Gospel minister and songwriter, Elizabeth Uwalaka  releases a new song titled "Born Again".
BORN AGAIN is a soul searching, call for Salvation song that was borne out of a serious meditation of what God is to me and how far He went to get me saved. This song stresses the fact that if I could get saved, anyone would.
Download, Listen, and Shareiiger
Watch Lyrics Video
Lyrics: BORN AGAIN.
The Lord gave His life for a condemned race.
The Lord gave His all so we may be free.
He gave us His all that we may be rich.
He couldn't hold them back because of His Love.
 CHORUS :
Glory to Jesus I am born again
Glory to Jesus there is no turning back
He died for me……
He died for me ( REPEAT)
 BRIDGE :
If I were the only one on earth
He still would have come to die
His precious blood and stripes were not in vain
He gave them all to me
 CHORUS (Repeat)
The End
Connect With Elizabeth
Facebook: Elizabeth Emenike Uwalaka
Twitter: @elixemenike
Instagram: @elixemenike
08134254169